Here are the coaches of the Windy City Hammers.

Coach Billy
Coach Billy Poole-Harris was a High School and Collegiate standout. He was a two-time USATF National Qualifier in the 5000 meter run. In college he was first-team all-conference at Concordia University. He also coached numerous high school cross country and track and field athletes. Coach Poole-Harris received his B.A in Exercise Sciences at Concordia University in River Forest (2008), and is recognized by USA Track and Field as a Level 2 Coach.  He has been coaching for 10 years and is the current head cross country coach at  Whitney M. Young Magnet High School.
Coaching Accomplishments
2007-Whitney Young Asst Girls Coach
Whitney Young Girls City Champs

First CPS Cross girls team to qualify for state since automatic bid

14th in state for cross country
2008- Whitney Young Asst Girls Coach
Cross Country City Champ

Cross Country Team State Qualifier

22nd in state for cross country
2009-Whitney Young Boys Asst Track and Field Coach
State Champ in the Triple Jump
2010- Whitney Young Boys Asst Track and Field Coach
Two time state champ in Triple Jump

High School All-American in the Triple
2012- Whitney Young Boys Asst Track and Field Coach
7th in the state in the 400 meter dash
2012- Windy City Hammers
National Qualifier 12-13 division boy 800m run 
2013- Windy City Hammers
All American 12-13 division boy 800m run
National Qualifiers
17-18 division boys 4×400 relay team
2 – 12-13 division boy 800m run
17-18 division boy shot put
17-18 division boy 800m run
2 – 12-13 division boy 1500m run
2014- Windy City Hammers
Coach Dobrin
Stefanie Dobrin is currently the Head Boys and Girls Track Coach and a Math teacher at Marshall. She is in

her 12th year teaching and coaching at Marshall.  In 10 out of her 13 previous years, one or more athletes competed at the Illinois State Track and Field meet.  During high school, she ran cross country and track.
She obtained her degree from Indiana University in Mathematics in Education.  Her student teaching was down in Bloomfield, where she also helped coach the Girls Track and Field team. In 2007, Stefanie earned her master's degree in Technology in Education at National-Louis University. She is a Level 1 and 2 USATF coach.
Coach Wallace
Phillip Wallace is currently the head Track and Field coach for the boys and girls at Kenwood High School.  This year as well as many before Coach Wallace has had both boys and girls attend the Illinois State Track and Field meet.  This year Syndey Jones finished 8th place in the long jump.
Before joining the Hammers, Coach Wallace coached the Striders.  The Striders competed in multiple USATF Junior Olympic Nationals.  He has had All Americans during his coaching duration.
Coach Al Edwards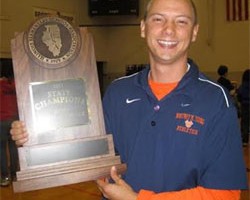 Coach Edwards is currently head coach of both the Whitney Young Academic Center (7th and 8th grade) track and cross country teams, as well as head coach of the Whitney Young girls track team.  Coach Ed started his running career in the decorated Columbus North High School program in Indiana, under the direction of Coach Rick Weinheimer, where Edwards was a multiple all-conference and all-area award recipient in the distance events.  Coach Ed went on to run at the NCAA level at Claremont McKenna College in Los Angeles, where he was all-SCIAC and a national qualifier in cross country.  Edwards continues his running career today as a marathoner, where he has completed 10 marathons including 5 Chicago marathons and 3 Boston marathons.  His coaching career began in 2006 at Lake Park High School, and has featured stops at Walter Payton and Deerfield High School before landing at Whitney Young.
Coaching Accomplishments
7th-8th Grade Level
2011 Boys IESA State Cross Country Champions
2013 Boys IESA State Cross Country Champions
2012 Keduse Worku
4-time CPS boys and girls cross country champions
4 All-State individuals in cross country
4-time Team state qualifiers
40+ All-City honors
2-time CPS girls track champions
35+ All-City honors
High School Level
2009 Lavinia Jurkiewicz state cross country champion
2010 Reana Rhone 400M state champion, Lavinia Jurkiewicz 3200M state champion
2011 Reana Rhone 400M state champion
21 All-State athletes
2x CPS Cross Country Champs
3x CPS Track and Field Champs
100+ All-City athletes